posted by taizou @ 2014-08-24 14:41:20
Dumps
whoa after a 3 month gap (sorry about that) here's some more Li Cheng stuff!
Taikong Baobei 太空宝贝 (CBA083)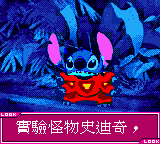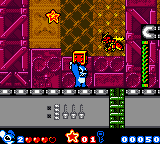 This is just a Li Cheng rerelease of a Sintax game I already dumped. It's... the same. They didn't even bother to replace Sintax's boot logo with the Niutoude one, so to play in hhugboy it requires "Unlicensed compatibility mode" to be manually set to "Li Cheng".
raw: Taikong Baobei (Unlicensed, Chinese) (CBA083) [Raw Dump].zip
header fix: Taikong Baobei (Unlicensed, Chinese) (CBA083) [Header Fix].zip
The next three games are all Pokemon platform games by Makon (aka Yong Yong) and I know you all love those. For some reason Li Cheng have titled them all Shuma Baobei (数码宝贝) which is actually a Chinese name for Digimon, but as previous games have demonstrated they didn't really care about the difference.
Shuma Baobei - Huojian Bingtuan 数码宝贝-火箭兵团 (CBA085)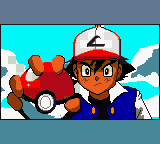 Also known as Pokemon Ruby (although the subtitle of this version translates to "Team Rocket"), this is a platform game starring a very red Pikachu (and yes they made a "Sapphire" with a blue Pikachu too).
Strangely, the game is permanently in some kind of debug mode; you can select a stage by pressing A or B on the stage intro screen, you have infinite lives and on touching an enemy you don't take damage but instead "collect" it as if it was one of the Pokeballs that litter the stages.
Unfortunately this also applies to the bosses, and as the game doesn't register the boss as being beaten when you "collect" it, you just get stuck in the boss area forever and it's almost impossible to actually finish any level. You can deal regular damage to the bosses sometimes by jumping on them, but usually a jump still results in a "collect". The only way to damage them consistently is by using Pikachu's electric attack, but even with this maxed out you don't get enough hits to finish them off; the only way I was able to defeat any boss was by cheating to give myself infinite electricity (Action Replay/GameShark code 01FF6BC2) or by using savestates and jumping.
If you actually do manage to beat the stage 8 boss, you'll get a blank green screen followed by a crash; I can't verify this on the real cart since Makon games don't work with my Action Replay and the game is more or less unbeatable without cheats or savestates (unless you get very lucky), but it happens both with the raw dump in hhugboy and the fixed version in other emulators, so I wouldn't be surprised if it was the case on real hardware too.
raw: Shuma Baobei - Huojian Bingtuan (Unlicensed, Chinese) (CBA085) [Raw Dump].zip
fixed: Shuma Baobei - Huojian Bingtuan (Unlicensed, Chinese) (CBA085) [Fixed].zip
Shuma Baobei - Chao Mengmeng Fanji Zhan 数码宝贝-超梦梦反击战 (CBA086)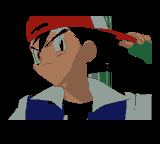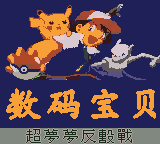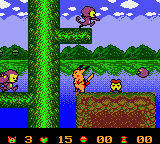 This seems to be the original version of the game above, with a different level ordering and a correctly coloured Pikachu among other differences - but most importantly it doesn't have any weird debug features stuck on, so you can actually play it properly. It's probably better known as "Mewtwo Strikes Back" (which is also what the Chinese subtitle translates to), and it's roughly based on the Mega Drive Pocket Monster game.
raw: Shuma Baobei - Chao Mengmeng Fanji Zhan (Unlicensed, Chinese) (CBA086) [Raw Dump].zip
fixed: Shuma Baobei - Chao Mengmeng Fanji Zhan (Unlicensed, Chinese) (CBA086) [Fixed].zip
Shuma Baobei - Hai Zhi Shen 数码宝贝-海之神 (CBA087)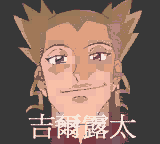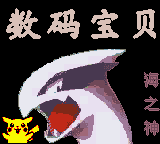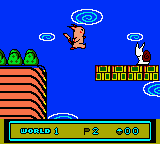 This is pretty much Makon's previous game Super Mario Special 3, only with Pikachu instead of Mario, some other sprites slightly modified and the levels arranged in a linear order. Apparently in some versions it isn't possible to complete the first level, but in this one you can, so.. you can enjoy the whole thing! (yay?)
raw: Shuma Baobei - Hai Zhi Shen (Unlicensed, Chinese) (CBA087) [Raw Dump].zip
fixed: Shuma Baobei - Hai Zhi Shen (Unlicensed, Chinese) (CBA087) [Fixed].zip