posted by taizou @ 2017-02-04 14:28:46
Dumps
Got something a little bit unusual this time: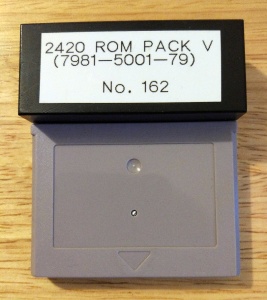 Looks like a prototype cart, and hardware-wise it pretty much is, but its purpose is something else entirely!
There isn't much info on these things at all, but from what I can ascertain it's from a series of carts distributed to camera repair shops for camera diagnostics/adjustments/repair. Presumably at some point the camera manufacturer wanted to create a portable diagnostic tool and decided to base it around cheap commodity hardware - the Game Boy - rather than spending time and money on developing their own machine or using something more expensive and unnecessarily sophisticated for the job.
I only have this one cart, but Steven Seventyeight on Youtube has a bunch more, plus a modified 4-player adapter which was presumably used for connection to the cameras. I have neither the corresponding camera nor the adapter, so mine is not much more than a curiosity at this point.
The original assumption is that these were likely for Ricoh cameras given Nintendo's history of working with them (e.g. for the chips used in the NES), but codeman38 identified some of the cart numbers as actually corresponding to internal model numbers for Minolta cameras. This document lists a bunch of them; the cameras seem to date from the mid-90s so presumably these carts would have been made around the same time.
As mentioned, the case and PCB seem to be the same ones used for Game Boy prototypes; the PCB is Nintendo-made, labelled DMGC-MBC1-512K-EPROM1-01 and it has a 512kbit (64kbyte) EPROM installed stickered "2420V" (although the ROM is only 32kb and doesn't actually require the MBC at all). However it has a black plastic cover over the EPROM which I haven't seen on any existing prototypes, so it may have been custom-made for these carts to prevent damage to the chips.
Here's the menu: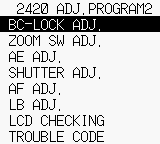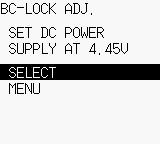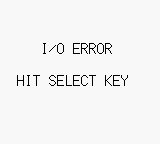 Without a camera connected you can't do much - most actions will lead you to this "I/O Error" screen.
There isn't much in the ROM pointing to who programmed it, although there is an unused(?) 8x8 font that also appears in some early Taito games. However it feels more like it was programmed in-house by Minolta rather than outsourced to an experienced Game Boy developer; the UI is very 90s-camera-menu-like and its unusual use of the Game Boy's controls (Select to select menu options; A, B and Start are unused), plus it redrawing the whole screen on every button press, gives the impression of a programmer not used to working with the system. So the font may have been a leftover from them studying existing Game Boy software to figure out how it works.
Download: 2420 ROM Pack V.zip