posted by taizou @ 2022-05-05 21:08:44
Dumps
This day has been a long time coming. Almost 12 years ago I imported a batch of rare games from Taiwan in the hope that I could just stick them in my newly-purchased EMS GB Transferer, dump them, and produce a ROM image that would immediately work in emulators, just as you could with any conventional, licensed Game Boy game. But, in the end, the only thing I was able to do was extract a single game from a multicart, Shi Kong Xing Shou. Of course, that was nothing to be sniffed at - it's a very good game that had been undumped until that point - but that still left a failure rate of over 75%, which was naturally a little disappointing.
Soon enough I'd learn why those dumps didn't work - copy protection, in short - and in the decade-and-a-bit since then, I've learned a whole lot, and dumped and emulated many many games with protection and other odd mappers, including the full entire multicart that Shi Kong Xing Shou had come from. But two from that early batch still eluded me: a pair of fighting games, developed by the well-regarded Taiwanese developer Vast Fame, probably the most-wanted yet most-elusive unlicensed Game Boy games out there. Unlike every other Vast Fame GBC game, these hadn't seen more easily-dumped re-releases on multicarts or by other publishers, instead remaining locked away behind the company's own custom protected mapper.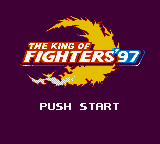 Vast Fame's history with the Game Boy fighting genre goes back possibly as far as King of Fighters '97, the hack of Takara's Nettou King of Fighters '96 which reintroduces the missing characters from Nettou KOF '95, as well as adding a fancy new SGB border. I believe this hack predates Vast Fame as an entity, but it does seem to have some connection to them or their staff, and all their subsequent fighting games were based on it.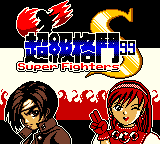 Next came Super Fighters S, aka Super Fighters '99, aka Fighter 2000. This took the KOF '97 hack as its foundation, but built a whole new game around it, including new music, new stages, a new intro, full GBC support, and new characters, with its roster coming from the real KOF '97. It was one of the first games developed by Vast Fame as we know it, released in either 1998 or 1999, and although the original version didn't explicitly credit them on the packaging nor in-game, it does feature the V.fame boot logo which would appear in their subsequent own-brand releases.
From there, Vast Fame would go on to pump out a new fighting game for GBC every year until 2002 - and, relevantly here, the rest of those games adopted the same copy protection they'd use for the majority of their subsequent self-published games in Taiwan. So of course I've had my sights on reverse engineering and emulating this practically ever since I first thought "hey what if I made my own emulator" back in 2013 - but I never got anywhere until an extremely unlikely hacked-together software & hardware combination bore fruit earlier this year.
And so: finally, after all these years, hhugboy 1.4.0 supports most of Vast Fame's Taiwanese releases from around 2000 onwards, including those stubborn two fighting games and a whole lot more! But for today's releases we'll be sticking with the fighters. Let's rumble?!
Nü Wang Ge Dou 2000 (女王格鬥2000)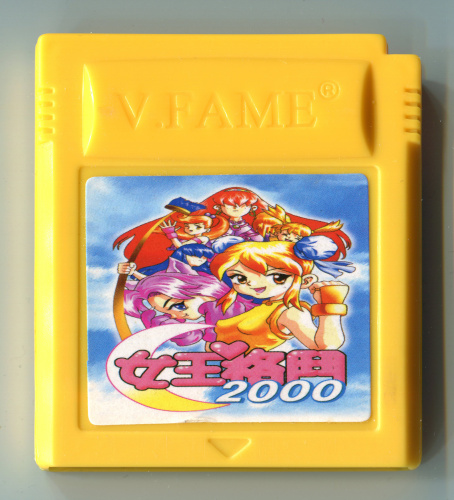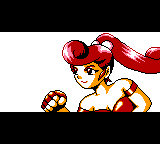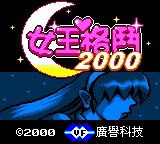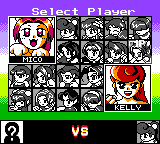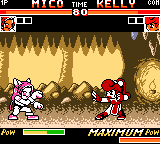 With the new millennium came Vast Fame's true debut on the gaming scene in Taiwan, firmly stepping away from their former semi-anonymity with the introduction of their double-diamond logo and custom cart shell. Nü Wang Ge Dou 2000 (loosely translatable as Queen Fighters 2000) would be their first fully own-brand fighting game, and they really came out strong with this one. As you might have surmised by now, it was their take on an all-female fighting game, no doubt taking inspiration from SNK Gals Fighters for the Neo Geo Pocket Color (the internal header name literally is "Gals Fighters") but Vast Fame at that time had quite a few women in key development roles, so they may well have pushed for it internally too.
Now, Super Fighters S was cool and all, but ultimately it was just the foundation of the Nettou KOF series taken to its logical conclusion, an imaginary "real" Nettou KOF '97 for GBC. And yeah it was well-done, with a bunch of quality audiovisual work put into it, but the nature of the thing meant it could only exist in KOF's shadow. This, on the other hand, was peak Vast Fame breaking out from the confines of imitation, with a brand new original 16-character roster, big expressive NGPC-style sprites and a whole new soundtrack from composer Yishen Liao. And the result is really leagues ahead of Super Fighters S in terms of the amount of distinctive Vast Fame style and personality and charm that shines through as a result.
Unfortunately, the larger sprites do come at a cost: the extra time taken to copy them to VRAM takes an extra frame, making animations noticeably choppier. It's still not as bad as, say, the Game Boy version of Street Fighter 2, but it's a very clear illustration of the tradeoffs that developers had to make in order to pull off a fighting game on the system; either you can have snappy responsive gameplay or nice big sprites but not both.
As I mentioned in the intro, for whatever reason this game doesn't seem to have seen widespread secondary releases in other regions, aside from being distributed by Kong Feng in apparently untouched form in mainland China. So this version is, probably, the only one that exists. And now you can play it! (Note as with all these releases it'll only work in hhugboy for the time being, until such time as other emulators implement support for it)
Nv Wang Ge Dou 2000 (Unl) [C] [GBX].zip
Nv Wang Ge Dou 2000 (Unl) [C] [Raw].zip
Chao Ji Ge Dou 2001 Alpha (超級格鬥2001α)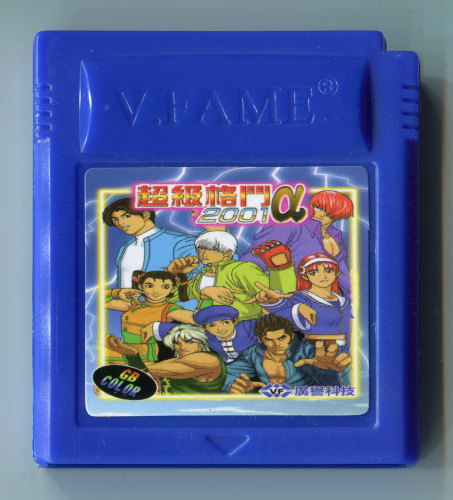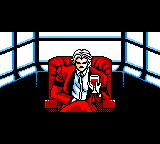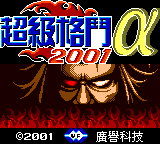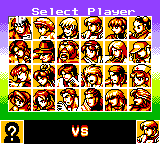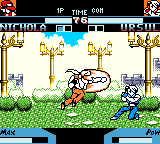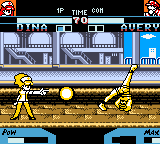 This one is a straight-up followup to Super Fighters S, with its name translating to Super Fighters 2001 Alpha. As such, it reverts back to being Basically A KOF Game, but presumably the standards of VF's own-label releases didn't allow them to quite commit to an outright copy-job, so all characters are recoloured in the artwork and their names changed to random shit like "Oswald" and "Jason".
This time we have 24 characters, with a roster loosely based on KOF '99, except with not-Rugal appearing as final boss, and Dina and Cio making a welcome return from Queen Fighters. Again it has bigger-than-Nettou sprites with the attendant performance issues, although the NGPC aesthetic is dropped here in favour of something partway between the chibi Nettou style and full-on human proportions. Perhaps inevitably, the non-original characters and more-realistic sprites result in a game that doesn't quite have the same charm as Queen Fighters, but it's all still very well-presented, there is a cool new Yishen Liao soundtrack and a cool intro and a cool title screen and all. Another unique addition for this one is a training mode where you can practice your moves against an inert CPU character.
Once again, this game doesn't seem to have had any kind of altered secondary release, just an untouched Kong Feng one & that's all. I really wonder why that happened - if Vast Fame was more precious about these games for some reason, or if other publishers just weren't interested... but surely this one had at least had the whole "just rename it to KOF and sell it as a KOF" potential? I dunno. It was a weird business.
Chao Ji Ge Dou 2001 Alpha (Unl) [C] [GBX].zip
Chao Ji Ge Dou 2001 Alpha (Unl) [C] [Raw].zip
Ge Dou Jian Shen (格鬥劍神) - Soul Falchion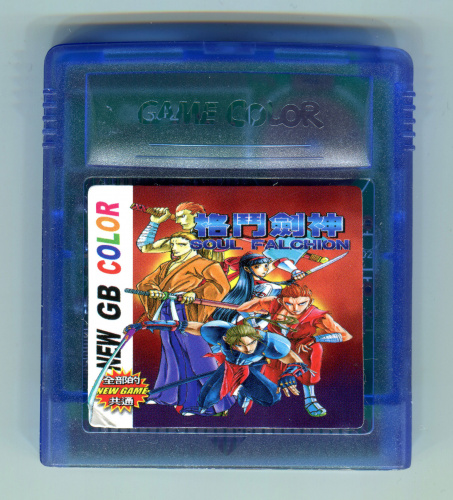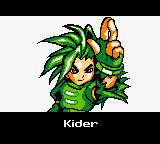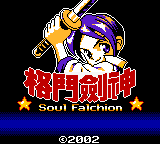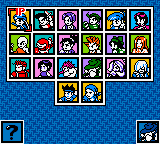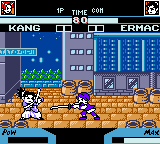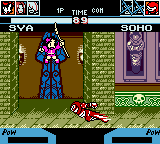 And finally! This batch of releases comes to an end with the very last fighting game from Vast Fame. If you aren't familiar with Soul Falchion, it's a weapons-based fighting game heavily influenced by Last Blade and Samurai Shodown, specifically the Neo Geo Pocket Color entries in those series, with most (or all?) of its 20 characters being based on those games. However, the sprites are actually downsized to fit the smaller Nettou KOF-style proportions, undoing the performance downgrade of the previous two games and making the whole thing feel more responsive again.
So, gameplay-wise this might actually be an improvement on the previous two, but unfortunately it's otherwise quite obvious that it came after Vast Fame's creative peak - there isn't any original character art to be found, for example, the intro is just a slideshow of character portraits edited from the NGPC games without any animation. Overall it's still a solid game and there are even still some good new music tracks here, it just doesn't quite live up to the standards of their earlier work.
Another pretty clear sign of something being up, though, is the fact that Vast Fame's name is totally absent - there's no credit to them anywhere in-game nor on the packaging, and even the "V.fame" boot logo which was present ever since the otherwise-anonymous Super Fighters S has been replaced with "SOUL". This would be the case for all of their subsequent games even as they moved onto GBA, with their only known credited release in 2002 being Xin Feng Shen Bang. So this period marks Vast Fame slipping back into the background after their couple of years in the sun.
Now, other versions of Soul Falchion have been dumped for a long time, because unlike the prior two games, it received a large number of secondary releases, often with reduced or no copy protection. It also appeared on Vast Fame's multicarts, again with no protection, which I dumped and extracted a while ago. Why this one and not the others? Who knows! However, none of those versions exactly match this standalone Taiwanese cartridge. The common dump, sourced from a mainland China release, has a different title screen and buggy fade effects in the intro. The multicart version meanwhile seems to be an earlier revision, with the soundtrack from Super Fighters 2001 Alpha in place of the partially-unique one found in standalone releases, and all the characters having different palettes. So I think we can probably consider this new dump to be the "definitive" version.
Ge Dou Jian Shen - Soul Falchion (Unl) [C] [GBX].zip
Ge Dou Jian Shen - Soul Falchion (Unl) [C] [Raw].zip