Something I'm going to do to start things off here is post brief-ish profiles of some of the various companies involved in this sort of things - some will get more in-depth features later along the line, but most of them haven't had much written about them at all aside from a few forum posts and articles on a certain wiki, so hey!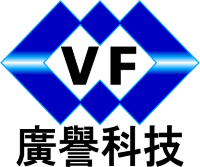 Let's save the best until... first(?) with everyone's favourite unlicensed Game Boy developer, Vast Fame (廣譽科技 in Chinese, also sometimes abbreviated to V.Fame or VF if you like). According to their own old website, "Vast Fame was founded in 1998 by a group of young people with a passion for Game Boy software" (aw don't you just love them already? these people care) but lets go back a bit further than that.
Vast Fame was not these passionate young bastards' first foray into the games industry - they had their roots in a group of companies around the Taichung area of Taiwan (also spilling out into mainland China, sometimes), centring on console developer-turned-king of bingo Gamtec Corporation. Many VF staff came from Chuanpu Technology - a Mega Drive developer also tied to Gamtec which closed in 1996 with the decline in 16-bit consoles - and a few were seemingly from Gamtec itself. However the Gamtec group had a history of Game Boy development going back even further than that, with a series of mono games produced around 1993 for Gowin and/or Syntek (more on those later) crediting Gamtec/Chuanpu-associated staff, which later showed up on a multicart alongside VF GBC titles.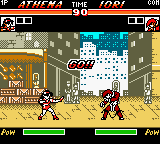 The first game from Vast Fame as we know it is fairly unclear - they were definitely involved with both Zook Z (1999) and Super Fighter S (unknown year, but a version is dumped with a "99" added to the logo, so we can assume 1999 or earlier). The latter is, essentially, a major hack of Takara's official GB KOF games, in colour, with extra characters, new music, a new intro, new backgrounds, and new other stuff... but examining the ROM reveals it's actually based on another, earlier hack of those games, called "King of Fighters 97", which is basically KOF 96 with characters from 95 added in - that game uses the PC Paint fonts favoured by Gamtec-linked companies (probably supplied as part of a dev kit from Gamtec itself) so it's probably safe to assume at least some VF staff worked on it, but I have no idea if VF itself existed as an entity at that point. Another possible candidate is the famous-ish Smurfs hack (Pocket) Monster Go! Go! (Go!!), thought to date from around 98, which has just about the best graphics of any hack I've ever seen, and again features a PC Paint font on its options screen.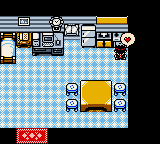 From its fairly inauspicious start making hacks (albeit good ones) of other peoples' games came the VF we know and love today - Zook Z may have been their first original game (well, okay, as original as a Mega Man clone can be) and it would be followed up by RPGs including Shi Kong Xing Shou & Shui Hu Shen Shou, platform games like Zook Hero 2 and Devil Island, three more Takara-engine fighting games, a couple of board game-games and a few Digimon and Pokemon games that even saw release in English (... of a sort). Many of these games rank up there as some of the best ever produced by an unlicensed console developer - with a few bugs ironed out and the "inspirations" less blatant they could easily have been quality licensed titles. In no small part this is thanks to their excellent music, mostly (all?) from composer Liao Yishen, believed to be a pseudonym for this guy.
Vast Fame survived at least into the GBA era, possibly around 2003 or 2004, with its games for that system including the genuinely excellent Digimon Sapphire, the Engrish-tastic Digimon Rury/Ruby, a new Zook game called Rockman & Crystal, plus Lord of the Rings, Super Robot Wars and Three Kingdoms games. Maybe more! It was also around this time that they collaborated with fellow Gamtec-connected company Sintax on another GBA game, based on "Digimon Adventure" for the SNES, which Sintax proceeded to recycle about 10 times over like some terrible Godfrey Ho movie, because they're classy like that. But I'll cover that whole debacle some other time.
And that, I guess, is where the Vast Fame story ends. Or does it? YEAH PROBABLY. but we'll see.