posted by taizou @ 2013-06-30 15:03:03
Dumps
okay let's pretend for a moment that these games have something to do with each other to justify posting them together:
They both have yellow carts. The label layout is basically the same. In fact both labels even show characters (who are not in the respective games) standing back to back. Both are later games in series Sintax has covered several times before, and to an extent each recycles something from one of the previous games. Both have Lemmings music. Both are basically platform/shooting games and seem to run on a similar engine, and both are reasonably fun despite some dubious production values. okay maybe these games have a lot in common! but only that stuff. everything else is different.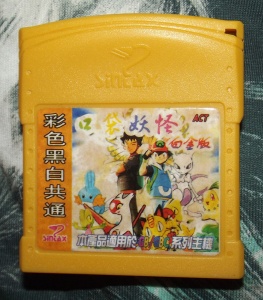 Kou Dai Yao Guai - Bai Jin Ban (口袋妖怪-白金版)
Sintax Pokemon Platinum: released 2005. Nintendo Pokemon Platinum: released 2008. who are the real pirates eh?
this is a fairly average platformer anyway. the sprites are cute! there are four selectable characters: Psyduck, Flareon, Pichu & Abra. and I have no idea if the MP gauge and the four icons in the bottom right actually do anything (the manual doesn't help) (also there's a story in said manual but its just the one from Pokemon Sapphire)
raw: Kou Dai Yao Guai - Bai Jin Ban (Unlicensed, Chinese) [Raw Dump].zip
fixed: Kou Dai Yao Guai - Bai Jin Ban (Unlicensed, Chinese) [Fixed].zip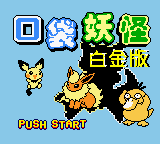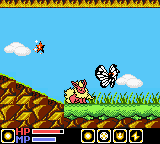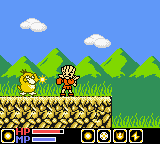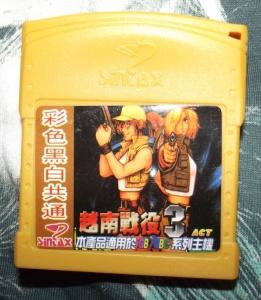 Yue Nan Zhan Yi 3 (越南戰役3)
this one is a Metal Slug game. and strangely for a company so fond of reusing engines, it doesn't recycle the one from Metal Slug 2001 - or even the one they used in Metal Slug X - but the one they've come up with here isn't too bad. A few graphics are taken from 2001 though (the rest being largely ripped from either the NGPC Metal Slug games or various other sources)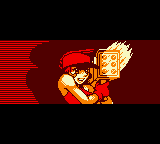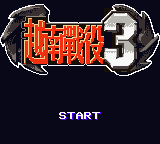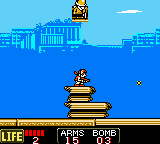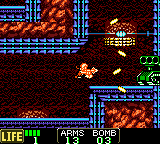 raw: Yue Nan Zhan Yi 3 (Unlicensed, Chinese) [Raw Dump].zip
fixed: Yue Nan Zhan Yi 3 (Unlicensed, Chinese) [Fixed].zip